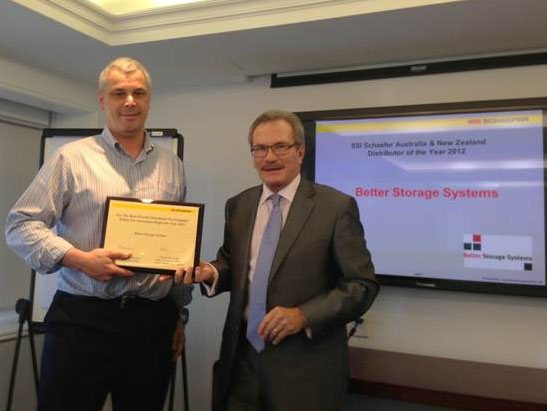 The SSI Schaefer Australasia Distributor conference in July 2013, was held in Auckland, New Zealand and attended by our distributors nationwide and senior management from Australia and Singapore.
Each year, the "Distributor of the Year" award is presented at the conference which aims to recognise their achievements for the year.
Due to their high degree of self-sufficiency and business growth, Better Storage Systems Pty Ltd was awarded the Distributor of the Year award.
Better Storage embraces SSI Schaefer's business principles and works co-operatively to achieve the common goal, which is to be the number one Storage and Materials Equipment provider in Australia and New Zealand. With this common goal in place, they increased their sales force and supporting engineering staff which resulted in exceeding their target.
"The success of Better Storage can be contributed to three parties, the Better Storage team made up of amazing individuals, the suppliers to Better Storage and most importantly the Better Storage customers," says Darren Bykersma, Managing Director of Better Storage Systems.
"Better Storage is committed to excellence and we are of the understanding that service is the lifeblood of any organisation. Everything flows from it and is nourished by it. Customer service is not a department, it's an attitude that we have shaped our business around. Solving your storage problems and making a difference to your storage needs is what Better Storage strives for and what we do best".